Join The Forum To Get inspired Ideas
How Do I Choose The Right Fall Color Wig?
Choosing the right color wig can be quite challenging and confusing. That's because there are plenty of colored wigs available in the market. If you are looking for the right wig color for fall, you are in the right place because we give you tips to help you choose the right fall color wig as well as the best wigs you can try.
If you have always wanted to try various colored wigs, the fall season is the perfect time to experiment with different colors because the temperature is cool. So you don't have to worry about sweating profusely in your colored wigs. 
With so many fall hair color wigs available, how can you choose the right color that suits your preference and personal style? Well, keep on reading this article as we expound on that.
But before we delve into how to choose a fall color wig, let's see some of the benefits of buying colored fall wigs instead of opting to dye the wig yourself.
Benefits of buying colored wigs
They are cheaper
It is no secret that it is cheaper to buy a colored wig compared to dying the wig yourself to your preferred color. This is because, when you opt to dye the wig yourself, you will have to buy the necessary tools and products you need to dye your wig. This can add to the total cost of the wig. So if you don't want to spend additional money on the wig, go for a colored wig instead.
There are plenty of wig colors to choose from
As we mentioned above, there are plenty of fall color wigs to choose from. Whether you want red, maroon, ombre, balayage, or any other color, you will easily find it. This means you will find a color that matches your preference and personal taste. 
How to choose the right fall color wig
Since the fall season is pretty cold, you need warm colors to achieve that beautiful and warm look. Of course, the last thing you want during the fall season is a dull look. That's why it is good to go for warm and bright-colored wigs.
You also need to know how much you are willing to spend on a fall wig color. These wigs generally vary in cost depending on a hair brand. So you need to determine your budget to see how much you are willing to spend on your fall color wig. Once you have determined your budget, the next thing is to look for a wig color that falls within your budget.
With that said, let's give you some of the fall color wigs ideas you can choose from to rock during this fall.
1. Klaiyi Ginger Orange Colored Body Wave Lace Part Wig Human Hair Color Wigs Pre Plucked With Baby Hair
There is no doubt that body wave is one of the most popular wigs in the market. This wig is shaped into waves, creating a consistent deep "S" pattern on the whole hair. Body wave is also a curly wig. This type of wig boasts natural beachy waves. 
If you love body wave wigs and looking for the perfect fall wig color to rock this fall,  Klaiyi ginger orange-colored body wave lace front wig human hair wig is the ideal option. This wig comes pre-plucked so you don't have to worry about plucking it, thus saving you time. This wig will help you achieve that beach wave without putting in much effort. It is also easy to wash, easy to wear, and easy to comb. You don't have to worry about ruining its color.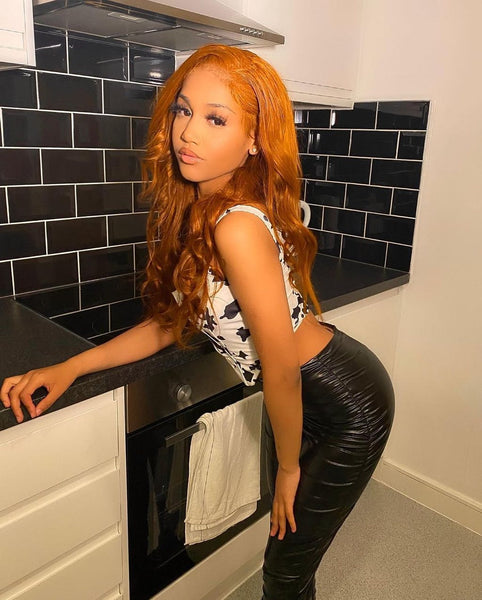 The features of this wig
Hair color: orange
Length: 14-24 inches
Density: 150%
Hair material: 100% human hair
Hair texture: soft
Capsize: average size
Cost: $108.23 [you can pay in four interest-free installments]
2. Klaiyi Pre-colored 1B/30 Ombre Balayage Highlight Shadow Root Body Wave Lace Front Human Hair Wigs
This is also another beautiful fall wig color you can opt for. It is also a body wave wig, meaning that it is curly. It appears lighter at the ends and a bit darker at the top. Klaiyi pre-colored 1B/30 ombre balayage highlight shadow root body wave looks good on any skin complexion. It is perfect for fall because it is neither too dark nor too light. Its warmth can make the wearer achieve a warmer look. It is not only a beautiful wig, but it is durable too, giving you a higher value for your money.
Its features include:
Hair material: 100% human hair
Hair color: 1B/30 ombre balayage
Length: 14-24inches
Lace style: 13x5 T part lace, 13x4 lace frontal
Density: 150%
Capsize: average
Adjustable straps: to allow you to adjust the wig to the right fit
No shedding or tangling
Very durable
Cost: $133.64 [you can buy now pay later]
3. Klaiyi Voluminous Bouncy Curls Lace Front Loose Wave Wigs Chestnut Brown Highlight Fall Color Wigs 180% Density
Of course, we cannot deny how voluminous bouncy curly wigs look beautiful. If you are looking for a perfect fall wig color, this Klaiyi voluminous bouncy curls lace front loose wave wig Chestnut brown highlight wig is a suitable option. 
This wig will give you that chic and warmer look you want to achieve during fall. It's chestnut brown color compliments any skin complexion. 
Its features include:
Hair material: 100% human hair
Hair color: chestnut brown
Hair length: 14-26 inches
Density: 180%
Easy to wash, comb, and style
Cost: $204 [can be paid in four interest-free installments]
4. Klaiyi Hair 99J Straight Wig Hand Tied Lace Part Wigs
If you are looking for one of the best wigs for black women, you should consider this Klaiyi Hair 99J straight wig hand-tied lace part wig. This wig will give you a more natural look since it is hand-tied. This straight lace part wig looks beautiful, and the color suits all skin complexions.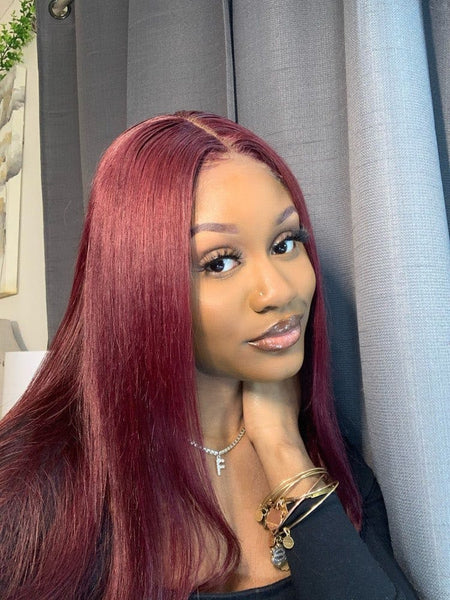 Features
Hair material: 100% human hair
Hair color: 99J
Hair length: 14-24 inches
Density: 150%
Easy to comb and style
Cost: $111.80 [you can pay after with Klarna, Sezzle, Zip, Stripe]
Final words
Choosing the right fall wig color is crucial if you want to achieve that warmer and beautiful look at the same time. Choose any of the above wigs, and you will surely enhance your appearance during this fall. Halloween is just around the corner. Check out the 2021 Halloween Sale where you can get hair wigs at a much lower price.
Leave a comment