Join The Forum To Get inspired Ideas
How To Install And Style Burgundy Color Wig ?
Burgundy wig is one of the most popular wigs available in the market today. That could be because of its color, plenty of color options to choose from, and plenty of hairstyles. Burgundy color is a color that looks like red wine or lighter than maroon. It can make women look more feminine and beautiful. What's more, women have the chance to choose whichever style they want, whether it is body wave, loose deep, curly, deep wave, straight, natural wave, or burgundy bob wig. The choice is endless. You only need to know what you want and your style and you will easily find a style that matches them.
In this article, we are giving a guide to help you install any type of burgundy lace front wig and how to take care of it. So without wasting time, let's delve into them. 
How to install a burgundy wig?
Installing a burgundy human hair wig is the same as installing any kind of human wig. So the process is the same. Here are some of the things you need when you want to install the burgundy lace wig:
Burgundy color wig 
Wig cap 
Wig glue
Adhesive tapes
Scalp protector
Scissor
Cotton swab
Mirror
Little brush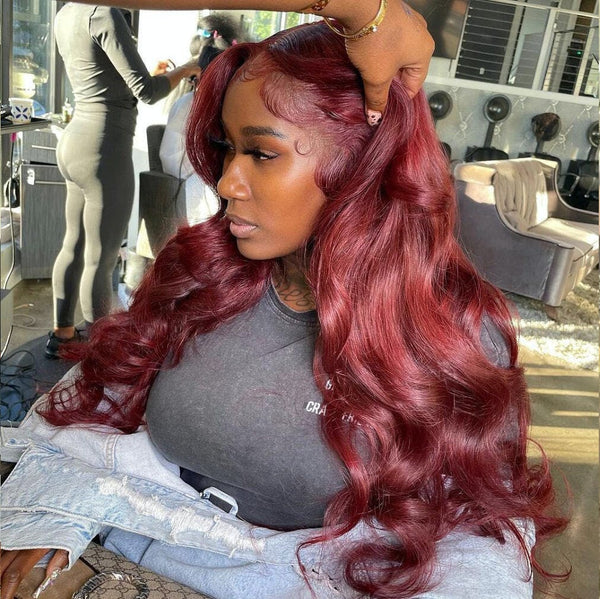 Step 1: prepare your burgundy wig
First things first, before you even install your 99J wig, you need to prepare your wig. You need to brush it to get rid of tangles. And if it is dirty, you can wash it and let it dry. Installing a clean, fresh wig is crucial if you want it to look beautiful.
Step 2: Make sure your hair is as flat as possible
The second step is to ensure that your natural hair is as flat as possible so that your wig can lie evenly and give you that natural look. If your natural hair is lumpy, your wig will look unnatural. You can make your natural hair flat by braiding it. But if your hair is too short, you can slick it back with a hair gel.
Step 3: Cleanse the area that will come into contact with your burgundy wig
The next step is to ensure that you cleanse your forehead and any other area that may come into contact with your burgundy wig. This is to remove product buildup, dirt, dust, or oil. You can use a cotton swab with alcohol and clean the areas. 
Step 4: Apply scalp protector
This is a crucial step that shouldn't be forgotten, especially if you have sensitive skin. There are plenty of scalp protectors in hair market. You can buy it at a wig shop or beauty shop near you.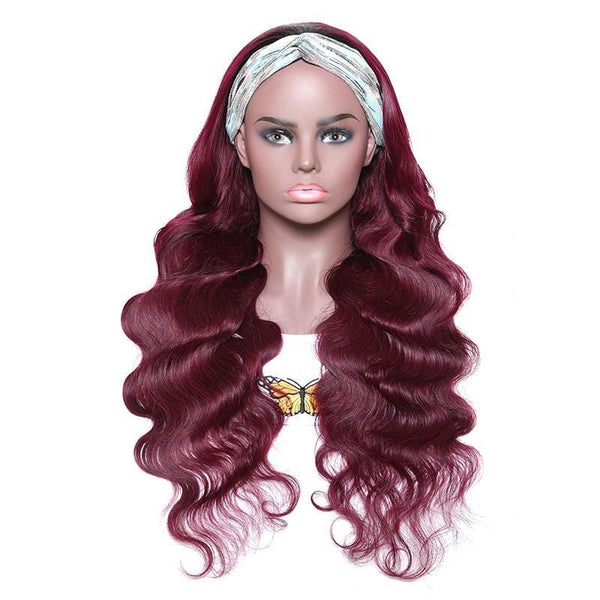 Step 5: Use glue or adhesive tape
If you need extra security, you can use glue or adhesive tape. Use a little brush applying the glue on the area the wig will apply. Blow-dry the glue for about 30 seconds. Make sure you use the right glue that is specially designed for wigs. In addition to that, you need to determine if you are allergic to the glue before you use it. You can test it on your skin patch first and see the reaction. If you are allergic, you can use a needle and threads, and wig clips to install the wig.
Step 6: Wear your wig cap
A wig cap can help secure your wig. Make sure that you choose a wig cap that is close to your skin to make the parting look natural.
Step 7: Customize your wig
If your red human hair wig is lace front, then it has excess lace that extends out in the front. You will have to cut the excess lace. So take the scissors and cut the lace to match your hairline's shape. You should do it carefully so that you don't over trim or even cut actual hairs on your wig.
Step 8: Style your wig
Once you have put on your burgundy lace frontal wig and it fits your head perfectly, the next step is to style it. Here is how to style your burgundy wig:
How to style burgundy wig
First, you need to ensure that you have all the tools needed to style the wig, including a wide-tooth comb, curling iron, and flat iron. 
Before you start styling your hair, you should make sure that your wig is completely dry. If you style the burgundy wig with bangs when it is still wet, you can significantly damage it. 
Place the wig on a wig stand or mannequin head. Use a wide-tooth brush to comb the wig to remove knots and tangles. Burgundy human hair wigs are 100% human hair, so they are just like your hair, and should, therefore, be treated gently. 
Then it is time to style your wig. If you want to curl your burgundy straight hair wig, start by adjusting the temperature of the curling iron. Adjusting the temperature can help you avoid damaging your wig and even hurting your scalp. You can curl the wig in any shape or size depending on your style. On the other hand, if you want to straighten your  burgundy curly wig, you should use the flat iron; follow the same steps as the curling iron, adjusting the flat iron to a low temperature. 
You can embellish your baby hair a little to suit your new hairstyle. This will help you complete your new style and make it look great. You can then spray some oil on the wig to make it look shiny and beautiful. 
Here is a link to a video that can help you install your burgundy HD lace frontal wig.
Burgundy Wigs Recommendations
There are plenty of burgundy wigs you can try. They include:
99J wigs are among the most popular types of burgundy wigs. The color looks more like red wine. It can help women achieve that feminine and beautiful look. 99J wigs are available in various styles including deep waves, loose waves, curly, straight, etc., making it easier to find a style that suits your taste and preference.
Orange ginger hair color wig
This burgundy hair color tends to have more orange than deep red. The best thing about this color is that it suits all skin tones. It is also available in many styles to choose from.
If you are looking for a hair color that has more red in it, you can pick the burgundy ombre hair. This color looks extremely beautiful and will look good on you no matter your skin tone.
Leave a comment