Join The Forum To Get inspired Ideas
Short haircuts look great on girls of all ages. However, have you spent hours styling your hair, but get messed in minutes when going out? Have you ever confused about hair styling when you have an important date or occasion? Many girls face the problem that don't know how style the short hair. Today we will have a step by step tutorial on how to style short hair, hoping this article can be helpful to you.
You will read in the post:
1.Preparing Your Hair
Before styling the hair, you should get prepared to guarantee your hair in good condition.
1).Wash the hair and let hair air-dry. After washing the hair, we advise to let the hair air-dry. It may not cost too much time for short to air-dry. If you must blow dry your hair with the hair dryer, use a diffuser to prevent voluminous frizz. Because heat is the main culprit of dry, frizzy hair, and hairdryers can wreak havoc on your beautiful curls.
2).Detangle your hair with a wide-toothed comb. Using a wide-tooth comb to detangle the hair while it's wet. Be careful, do not use a regular hair brush or fine-toothed comb since they can create frizz. You can even detangle your hair by running your fingers through your curls.
3).Deep-condition your hair every 1-2 week. Apply hair conditioner, then cover your hair with a shower cap or plastic bag, and add low heat (wrap a warm, damp towel around your head or use hair dryer's hot wind .) This Will be helpful to opens up the cuticle and allows the deep conditioner to penetrate your hair. Leave in the deep conditioner for at least 20 minutes (we recommend 20-40.) Finally Rinse out the Deep Conditioner with cold water, which closes the hair's cuticle and helps the strands retain moisture.
2.Recommend Hairstyles For Short Hair
Curling Your Hair
Learning how to curl short hair, will be a helpful skill in daily hair styling. It can add volume to hair,making your hair looks full and fluffy.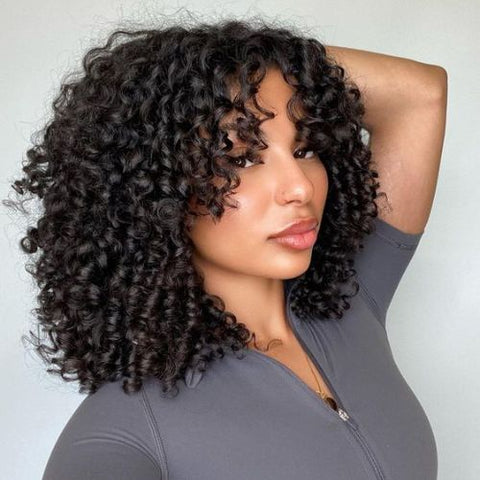 1.Apply a heat protectant all over the hair.
2.Section off the top part of your hair with a hair tie or clip.
3.Hold your iron at a diagonal angle for a more effortless, modern pattern (or horizontally for more volume).
4.Wrap the hair around the iron, leaving about one inch to one and a half inches of hair out for a modern beauty texture.
5.Repeat the curling with the rest hair.
6.Gently glide a flat iron over the very tips of your hair for a more relaxed finish. 7.Finish with a texture spray.
After curling the hair, you can make it middle part or side part. At this time it is perfect for you to go out.
Bun Styles
If you want to have a bun style, we recommend the updo and half up half down style, since they are very easy to copy whether you are straight hair, curly hair or wavy hair, even for beginners.
For Updo Style.  Leave a little hair at both sides as baby hair, then pull all the rest hair to top, make it a bun shape, and fix the short hair at the back with hairpins. Just a few steps, you will get an elegant style.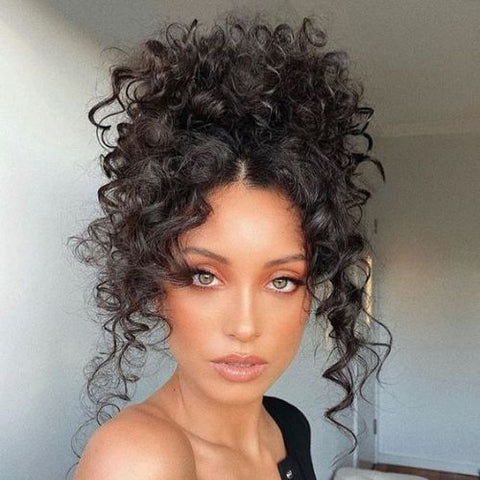 For Half Up Half Down Bun style. It is easy and quick to get the cute half up hlaf down style. Divide your hair into two parts, the top part and the down part(or three parts, the left part, the right part , and the down part ) , Then make the top part hair into a bun, fix it with hair rings or hairpin.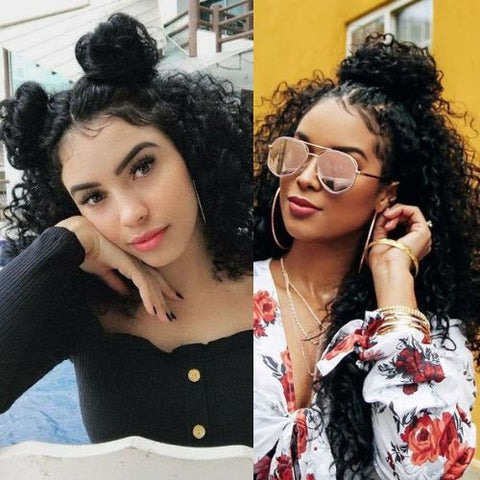 Braid Hair Style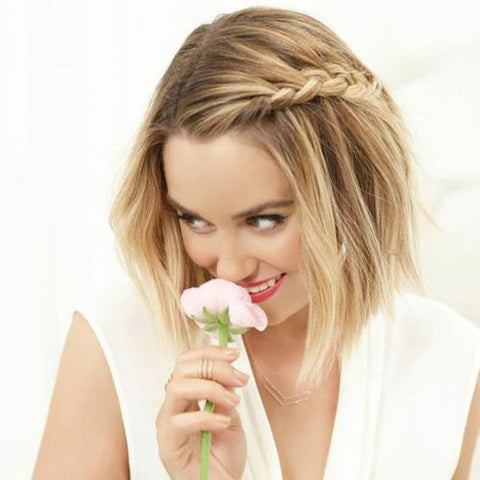 1.Part your hair down the center.
2.Grab a section of hair on the right.
3.Divide the section into three portions, try to make each portion equal in length and width.
4.Braid the portions together, until the braid reaches your desired length.
5.Finally tie and pin the braid in place. You can do one braid or two braid at both sides to get a gorgeous style.
If you don't have time to braid ,you can just twist your bangs or fringe.Simply remove the fringe off your face by gradually winding small sections of it. Pin the coiled strands in place with bobby pins.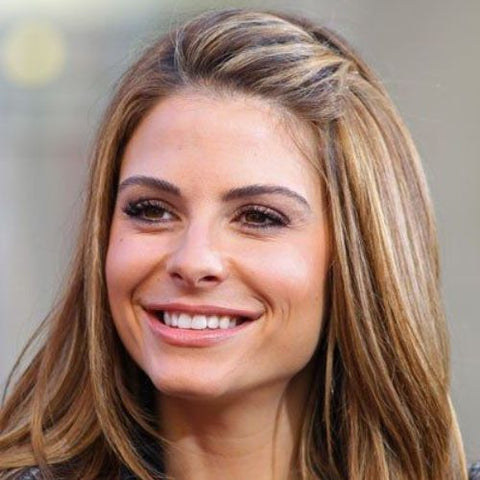 Flipped End Hairstyles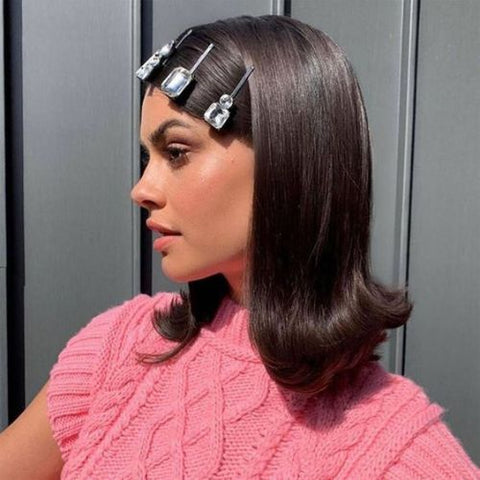 Flipped hair inspired by 60s hairstyle has been around for decades, now it's still trending.To Get this elegant style, you just need two steps.
1.Gather your hair at the crown and secure it with a hairpin.
2. Create flipped ends with your curling wand. Finally You can decorate your hair with beautiful hairband or hairpins.
Pin Section of You Hair.
This hair is extremely easy, It is a good choice for lazy girls, or girls that don't have too much tiime.You can Just side part your hair and place the hairpins in several different positions like the picture, then you will get a trendy style.
3.Conclusion
Short hair has always been on trend, and it is so versatile when it comes to short hairstyles Learning how to style short hair will make your daily style stand out. The styles we recommend today are all easy and quick to achieve. You can make changes by curling, braiding,twisting your hair, or just apply some hair accessories like hairband, scarf or hairpins. Don't afraid to make mistakes, dare to try, practice more, and you will become your own hairstylist!
Leave a comment