Join The Forum To Get inspired Ideas
Ponytail Hair Styles To Display
The ponytail is a great hairstyle for women of all ages. Many different types of ponytails can be braided, and it is time for the ponytail to make a comeback. Ponytails are often simple and versatile. You can find the perfect stylish ponytail and wear it every day, or you can keep changing things up, from a sleek low ponytail to a high ponytail, whichever way you end up choosing.
The ponytail is the ultimate hairstyle: it's comfortable, timeless, and perfect for almost any occasion. Stylish ponytail hairstyles will help you save a lot of time without sacrificing style. Depending on the length of your hair, you can choose a low ponytail, a medium ponytail or a high ponytail, or try each one on a monthly basis.
1.The Top 4 Ponytail Styles
1. A simple, sharp low ponytail
A proper sleek low ponytail only takes a few minutes. A perfectly smooth ponytail really accentuates the shape of the face. So, if you are going to a party, then a sleek ponytail could be the perfect way to flaunt it. You can make a middle part with the tip of a comb, use a brush to make sure your hair is smooth and secure everything in place with a few hair ties.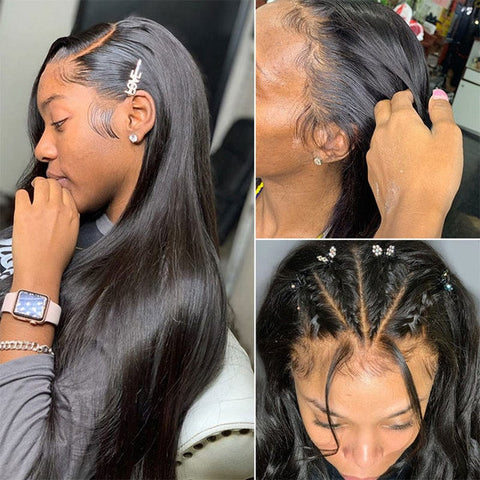 2. Playful and stylish high ponytail
A stylish low ponytail braid is perfect for top business meetings, but what about a non-rigid but flattering everyday dress code that is a chic high ponytail braid? Unlike the low ponytail, the high ponytail allows you to get creative with your own. The only thing to note is that your hair needs to be left longer, but if it's not, try hair extensions.
3. Accessorize with stylish high ponytails
Most ponytails require you to have medium length hair that is thick enough to show volume when combed backwards. But what if your hair isn't long enough or your hair is a little too thin? Using accessories like bows or ties can help you easily hide the extensions while shifting the accent to the free flowing part of your hair.
4. Curly and smooth high ponytail
If your hair is naturally curly, your approach to creating a sleek high ponytail will be a little different. You may need to spray your hair heavily with water and use some hair products to treat any protruding hair to create a sleek ponytail. Overall, a curly ponytail is a very effective way to style your hair and make it look longer and more voluminous than usual.
2.How to create the perfect ponytail ?
Tools
Professional styling brush
Hair elastic or hair elastics
Hair clips
High control hairspray
If your hair is freshly washed and a little slick, add some dry shampoo to add texture that will keep the ponytail in place all day.
Next, determine where you want to place your ponytail. Your ponytail needs to be in a place where your shortest hair can reach. Make sure to pull the hair up, not back.
You will use the "pocket" of your hand to hold and control the ponytail. This is the area between your thumb and forefinger. Use one hand to hold the ponytail in place and the other hand to brush out any bumps to ensure a smooth, sleek ponytail.
For best results, start at the front center of your head and brush the hair back to your placement point. Next, brush back the left side, then the right side. Finally, run through and smooth out any areas you missed until you are ready to secure with a rubber band.
Using a hair tie or rubber band will keep your ponytail in place all day, whereas regular hair elastic tends to slip out of place throughout the day.
3. Three Pontail Methords To Display
Stylish low ponytail
Step 1: Part your hair. A middle part or a side part will do-anywhere you feel most comfortable!
Step 2: Depending on your hair type, use hairspray and/or hair gel to secure flyaways and baby hair.
Step 3: Place strategic bobby pins in gold, silver, bronze or black to secure facial frames that are too short to fit into the ponytail.
Medium Ponytail
Step 1: Try leaving the part or going straight back at that level to see what will flatter your face shape.
Step 2: Try drawing a straight line horizontally from the temple to the ponytail.
Step 3: Use a brow powder and makeup brush to apply a root cap around the edges to cover up the thinning hairline, especially the temples.
Step 4: Use the same products as for the low ponytail to secure flyaways and baby hair.
Stylish high ponytail
Step 1: Flip your head down and use a large paddle brush to brush your hair all in the right direction.
Step 2: Spray hairspray onto the paddle brush and brush out any flyaways.
Step 3: Add an elastic hair tie in addition to the regular hair tie holding the ponytail in place. This gives a little extra lift.
Step 4: Comb through the roots of the ponytail for extra volume, then smooth out at the top.
Step 5: Use the same products to smooth your hairline as you would for a medium ponytail and a low ponytail.
Whether you're out running errands, out with friends, or relaxing at home and just want to keep your hair out of your face, we think a sleek ponytail hairstyle is a great option. While sleek ponytail styles may seem like they take a lot of time and effort, they're actually super easy to do and only take a few minutes to complete.
4. Conclusion
In a nutshell, there is a way to create sleek ponytails on any type of hair, whether straight or curly, fine or coarse, short or long. By following the guide above, you can easily find the perfect stylish ponytail for you and get even more creative by customizing your ponytail to fit the way you want to wear it. Most importantly, we want your ponytail to be available at all times, no matter what the occasion.
Leave a comment