Join The Forum To Get inspired Ideas
What should you consider before buying a wig?
Wigs are a big trend and the easiest way to hide a bad hair day. Whether you want to try a new hairstyle or to cover up hair loss due to illness, you need to read this article before buying a wig. This article will take you through the material, curvature, length, head size, comfort, color, price, and other aspects to consider when buying a wig.
Wig material
From the material on the market for wigs mainly human hair wigs and synthetic hair wig.
Synthetic hair wig is cheaper and easier to maintain than human hair wig. But synthetic hair wig has a shorter lifespan, no access to thermal tools, and a visually highlighted appearance, so no one's wig looks natural.
Wigs human hair is made with 100% virgin hair to look more realistic and can be dyed. Wigs come in many styles, such as curly hair, kinky curly hair, straight hair, or deep wave. One thing to note here is that virgin human hair wigs are made from human hair and need to be treated like your own hair. I'm sure you won't say no to having a natural and beautiful appearance, despite the complexity of the care.
Natural look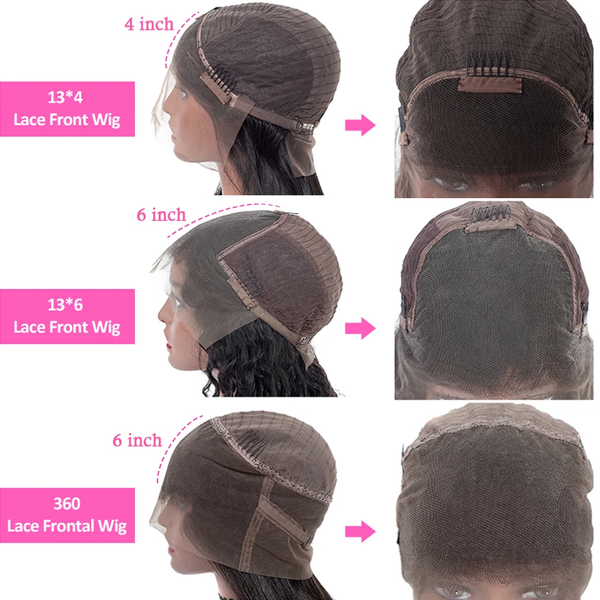 When it comes to the natural look, we have to talk about the progress and innovation of the wig industry.
In pursuit of a more realistic effect and a more perfect hairline, the wigs slowly evolved into lace wigs. Lace human hair wigs have full lace wigs, front lace wigs, 360 lace wigs, transparent lace wigs these four.
Some will prefer lace front wigs because it will be lighter and have more airflow around the hairline.
360 lace wigs are also popular. It can give you a lot of style choice, even the natural high ponytail can also be done, this front lace wig inspires can not do.
Hairstyle curvature
Wigs come in a variety of curves, such as straight hair, curly hair, body wave, loose wave, and deep wave. The most popular are body wave and curly hair.
Compared to deep wave hair, curly hair has tighter curl. Curly hair can blend well with any naturally textured hair.
If you want an adequate amount of traffic, a deep wave is your best bet. Deep wave hair texture flows have smooth waves and it looks really luxurious and boosts your hair. 
If you like Loose wave hair, loose curls are your best bet. Loose wave hair is both wavy and curly hair. 
Compare to Body wave, the curl pattern of the loose wave hair is a little tighter and smaller.
length
Long hair wigs are elegant and beautiful, and of course, can play a role in keeping warm in winter.
Short Bob wigs are easier to wear than long wigs, especially in the summer when it's really warm outside.
When you buy a wig, try to choose a length that fits your lifestyle. Consider how much time you are willing to spend on wigs. Whatever you decide, it's best to buy a wig that's longer than you would like. This will make room for your perfect haircut
The size
The size of the 100 human hair wig is also important. Wigs come in different sizes just like shoes and clothes. The most important thing to buy a wig is to choose the right size for yourself. Because the right size of comfort is best and won't hurt your hair. Now there are a lot of offline brick-and-mortar stores when you buy can directly wear try. If you're buying online, you can offer your head size to customer service and ask them to give you an appropriate recommendation, because they know the price professionally. But don't worry too much, many wigs have adjustable elastic, making it easier to find the right size
Color selection
For entry-level wig users, try to use the same or similar color as your own hair. It's a little unnatural to use a wig, and you need to forget that you're wearing a wig. Wigs of a similar color to your own will help you in this respect.
If you're an old wig wearer and want to make a breakthrough, try other colors.
If you have cool undertones, you should choose a warm-toned wig, and if you have warm skin undertones, then your wig should be a cooler tone.
Klaiyi Colored Wig provides a variety of colored human hair wigs. You are sure to find something you like.
Click here to see how to choose hair color based on skin color.
The price
Price is another consideration. Wigs vary in price according to quality, density, and workmanship. Wig stores offer active discounts, as well as long-term discount codes. Klaiyi also has a centralized Coupon Page, which you can collect before buying wigs. A reasonable combination of purchases will save you a lot of money.
You need to take all of these factors into consideration when choosing a wig. Of course, you should also think about the different occasions you attend and the wigs you choose must keep up with the rhythm. Last but not least, choose what you like
Leave a comment