Reviews
Description
Payment
Faq
This hair is absolutely lovely! So soft and moves so fluidly its actually really good compared to some of my other hair, true to length and beautiful, Im so glad I got it! And very little to no shedding
Just received my hair. Great quality. Super fast shipping. I would def order again
Beautiful wig, it's very thick,and true length,love it!
I love the purple color hair; I'll buy more hair at this store
<!-description->
| | |
| --- | --- |
| Product Name |  Klaiyi Smokey Deep Purple Ombre 13x4 Lace Front Body Wave Wig |
| Hair Material | 100% Virgin Human Hair Wig |
| Hair Grade | Klaiyi Hair, Virgin Hair, Body Wave, Bleach/Dye Friendly |
| Density | 150% |
| Hair Color | Natural Color |
| Hair Length | 16 Inch-26 Inch |
| Circumference | Average Size, 22.5 Inch |
| Lace Wig Type | 13x4 Lace Front Wig |
| Processing Time | Ship The Order Within 24 Hours After Order Confirm, Except For Weekends And Holidays |
| Delivery Time | USPS Overnight 2-3 Business Days; USPS 3-7 Business Days; DHL/UPS 5-10 Business Days |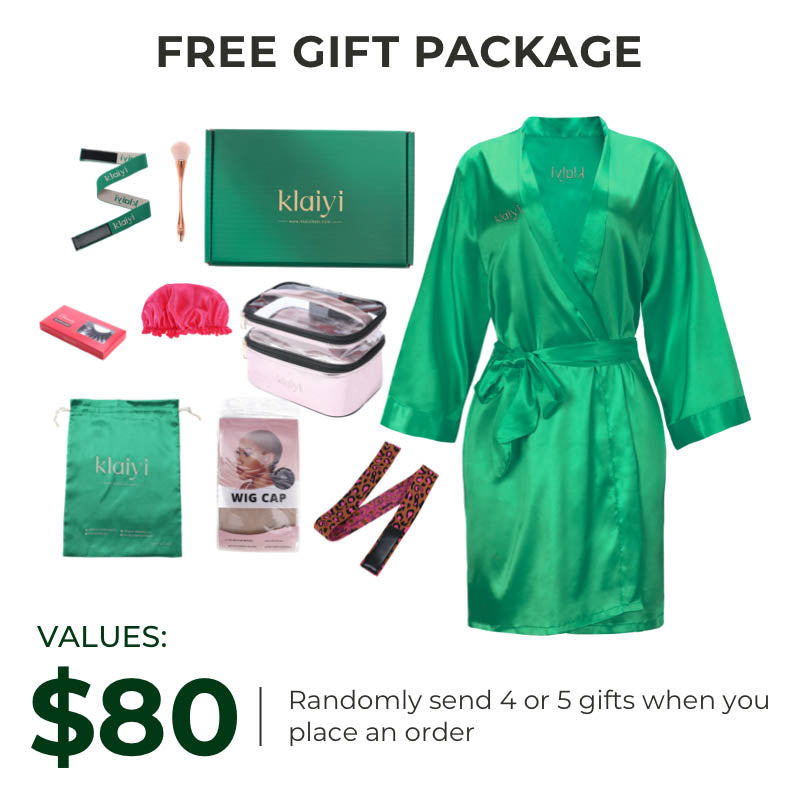 We proudly ship worldwide
Standard processing time is between 3-5 business days, Monday through Friday 10am to 4pm Eastern Standard Time. We do not process on the weekends or holidays. Processing times are NOT included in the delivery time. Please plan accordingly.
Although we try to get your hair to you as fast as humanly possible, please don't order hair less than 48 hours before you need it! It's always best to give yourself at least a 3 week cushion before you need it to avoid any unforeseen circumstances that may delay delivery.
We always ship from warehouses located in CA, USA or China. USA customers orders always ship out from USA by USPS or UPS., unless there is no stock, we will ship out from China. Other country orders will ship out from China, by DHL, UPS, TNT, ets. The warehouse of USA, we offer express shipping, if you are urgent to your order, you could pay extra $20 for this shipment, it usually took 1-3 day to arrive.
Please Noticed:
1. One day in a week won't process orders-- U.S Saturday . Shipping companies all close on Sunday. Please choose the right shipping method with concern after Friday.
2. Processing & shipping times may be extended during sales & holidays.
3. Discounts cannot be applied or changed after you've made your purchase.
4. Multiple discounts cannot be applied to orders.
5.Orders will only be remained for 5 working days after placement when phone number missing or unclear address. Longer than that, order will be cancled and money will be returned accordingly. So pls make sure that you leave correct shipping address and telephone number when place order.
Here's everything you need to know about our Exchange Policy:
1.We take your happiness and satisfaction seriously.
2.If you are not happy with a recent purchase, we will do our best to put a smile back on your face.
3.Click here for a 
Detailed Explanation of our Exchange Policy. 
4.Maybe you got cold feet, maybe it's not the right color, maybe you were thinking of another texture. We get it, stuff happens. 5.And yes, we sometimes make mistakes, too. If we've sent you the wrong hair length or texture, we'll exchange it at our cost.
Payment Methods
If your card is turn down or you can not get through your order, please contact our customer service to help: klaiyi@klaiyihair.com
Here is one quick way to go through your order:
1. Choose the hair you want and email us all the details about your order, such as the hair type, the length, the pack you want, and price, and your details of your address to our customer service email: klaiyi@klaiyihair.com
2. Then pay us by this
 https://www.paypal.me/buyerpayment,
when you pay it pls send us your screen shot or your paypal account to our customer service, when we get the payment, we will confirm all the detail to you again, then arrange the shipment for you within 24 hours.
3. Any questions, just feel free to contact us! Always waiting for u.
Contact Us
Email:  klaiyi@klaiyihair.com
Phone: US Domestic: (916) 865-9052
WhatsApp:  +8618337492297
Monday to Friday > 8:30 am - 8:00 pm ET
Saturday to Sunday > 10:00 am - 6:00 pm ET
Q: How many bundles will I need for a sew in?
A: This answer depends on 4 things: the size of your head, the type of hair you want to rock, the length you're going for and where you'd like to be on the scale of natural to full on diva (think SZA or Solange). We recommend a minimum of 3-4 bundles for a full head sew-in. But ultimately, the final decision will depend on four things: the size of your head, the texture of hair you want to rock, the length and the look you're trying to achieve.  If you're still unsure, consult with your stylist for an expert recommendation or feel free to contact us via chat, email or on social media.
Q: Can I colour/cut/style my hair?
A: Absolutely! All klaiyi hair products are made from 100 percent human hair and can be cut, colored and styled as if it were your own. You can darken it, lighten it, lay it to the side or make it shorter, but remember: just like our own hair, your human hair requires a good maintenance routine to keep it looking fresh and vibrant. Each purchase is accompanied by a set of care and maintenance tips specific to that particular texture.
Q: Can I straighten the curly hair
A: Yes! Klaiyi Hair products are extremely versatile, but it's important to remember that just like our hair, frequent use of high heat may permanently loosen the curl pattern.  If straight hair is your preferred style, we suggest trying one of our straight textures styled using bundles (for a full head sew-in) or a wig so that all of your hair is protected.
Q: How long will my hair last?
A: Klaiyi hair products can last up to a year or more with proper maintenance (we have some customers who have been reusing their klaiyi hair hair for more than one years!). Because our hair is 100 percent virgin human hair, it truly does respond to how you care for it.  With constant styling and manipulation, all hair is prone to a little bit of shedding and tangling; as such, we recommend not cutting or sewing through wefts and sealing the wefts before your sew-in install.  For curly textures such as our Deep Wave,Jerry Curly, collections, DIY, U-part, lacefront, full lace wigs and Clip Ins can help extend the durability and life of your hair. These products allow you to remove the hair periodically for washing, conditioning, styling, and other special considerations.  Remember…just like your own hair, curly and textured hair needs lots of moisture, but it does not respond well to products with alcohol or heavy product use. With Klaiyi Hair, there's no need for hair grease or globs of gel. A simple co-wash regimen will do. If you experience heavy product buildup, you can treat the hair with a clarifying shampoo followed by a deep condition with a moisture rich conditioner. 
Q: Is the hair ready to wear?
A: Each purchase is accompanied by a set of hair care and maintenance tips. We recommend hand washing the hair before use and referring to our care and maintenance tips to keep your Klaiyi Hair looking fresh and vibrant.
Q: What's the difference between a lace frontal and a 360 frontal?
A: Designed to mimic an entire hairline, frontal are the latest innovation in protective styling. The versatility of frontal are endless. With lace frontal, the ear to ear coverage is perfect for when you don't want to leave any hair out, for those who have thinning edges and those with traction alopecia. 360 frontals provide all around coverage, from front to back. Perfect for high ponytails and updos with our natural textured extensions.
A: Closures and frontals are two different things but they both serve the same purpose-to close off a weave install or a wig. They both eliminate the need of having to leave your natural hair out to blend with the extensions. Lace frontal are bigger and wider; they run ear to ear covering your entire hairline at the front. Lace closures are smaller and they primarily close off the horsehoe or "u-part" portion of an install. Lace frontal are more versatile because they can be parted anywhere ear to ear and lace closures can only be middle or side parted. They can both be sewn on or glued on. Either a frontal or closure will close off your install and make it look more natural
Q: I made my purchase at 3am on a Saturday night! When are you going to process my order?
A: We will process your order within 2 - 4 business days, often sooner. This does not include weekends, holidays, or during sales or special events. Note that our regular office hours are Monday through Friday 10am to 4pm EST, excluding holidays. The first email you will receive is an order confirmation. The second email you'll receive will be your shipping confirmation. Both emails will go to the email address you provided when you created your order.
Q: Do you have any discounts or sales?
A: Yes! Klaiyi Hair periodically offers special promotions, discounts and/or flash sales. Sign up for our newsletter to be the first to know! And make sure you're following us on Instagram klaiyihair_no1 and Facebook.com/klaiyi hair so that you'll never miss a deal announcement.Please note that only one discount code can be used per order. Offers cannot be combined.
Q:What types of payment do you accept?
A: We accept the following payment methods: Credit cards: VISA, MasterCard, PayPal and American Express.
Q: How can I cancel my order?
A: If you decide to cancel your order you can contact our customer service department and they will assist you in doing so.
Klaiyi will arrive in their natural black/brown hair color and can be dyed any color you'd like.
However, we strongly recommend consulting a professional hair stylist before dyeing or colour-treating your hair
Q:Why did my payment fail?
A:If your payment for an order has failed, please check it is not due to the following situations: Card security code failed Please note that an incorrect card security code could cause payment failure. Card security code is the short numeric code on the back of your credit card. Please verify that you have entered the correct card security code and try again. Insufficient fund If you meet the insufficient fund error log when you make payment by credit card, please make sure that you have sufficient funds in your account and that payment for your order does not exceed your credit limit. Please also make sure you have used a Visa or MasterCard personal credit card to finish payment, because at present debit card or business card is unable to be supported. Exceed limit Please make sure the order amount does not exceed your credit card limit. Or the payment is unable to go through smoothly.
Q:Why my hair extension getting tangled?
A:1) Your hair extension tangle due to dryness, oil & dirt built-up. Salt water, chlorine and not combing (wide tooth comb)out your hair daily.
B:2) Make sure to wash & condition your hair at least once a week, twice a week is better. U se olive oil to moisten it smoothly or consult your stylist for more help.
Q: Can I get my bundles in a different color?
A.Full of Klaiyi Hair is 100% virgin unprocessed hair and does not have any chemical treatment which includes coloring. The bundles only come in its natural color (off black #1B or dark brown #2).
Q: Q: How can I track my order?
A: Here is how you track your order: Log into MY ACCOUNT to view the status of your order Track your shipment by using the tracking number provided to you once your item(s) have been shipped. You cannot track your order before it has been shipped. If you don't know what your tracking number is or if you're having difficulty tracking your package, feel free to contact our customer service department for assistance. Phone Mumber: 8618864600633. Email:klaiyi@klaiyihair.com
Customer Share
SHOP BY LOOK