Join The Forum To Get inspired Ideas
Celebrity Look- Nicki Minaj Best Hairstyles
Have you ever heard Nicki Minaj? She is a famous singer, model, and rap star. In addition to her achievements in music, her glamours hairstyle is also something that everyone knows and pays attention to. If you are looking for hairstyle goals, the looks of Nicki Minaj are your best choice. Minaj prefers wearing hair extensions and wigs to carry out her sassy hairstyles. Here, we will talk about her iconic hairstyles and how to get same style with her.
You will read in the post:
1.Who is Nicki minaj?
Nicki minaj is known professionally as a Trinidadian-born rapper, singer, and songwriter based in the United States. Often referred to as the "Queen of Rap", she is known for her musical versatility, animated flow in her rapping, alter egos, and influence in popular music. She first gained recognition after releasing three mix tapes between 2007 and 2009. Her 2010 debut album, Pink Friday, went 4x platinum and had seven singles reach the Billboard's Hot 100 at the same time. Her follow up album, Pink Friday: Roman Reloaded, was released in 2012. She became a judge on the twelfth season of American Idol.
2.Nicki minaj's classic styles.
We selected a few of her most iconic looks for you to get inspired and recreate them.
1.Wrapped Ponytail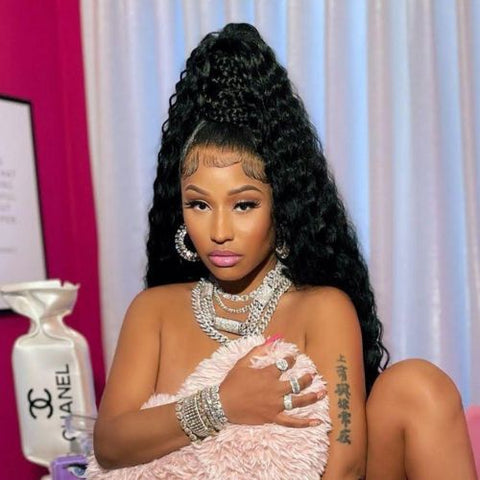 A classic ponytail is the one most synonymous with comfort and simplicity. To make this style, you can elevate a pony at the crown of your head, wrap some of your hair around the elastic, and flip out the ends.
2.Red Barbie Hair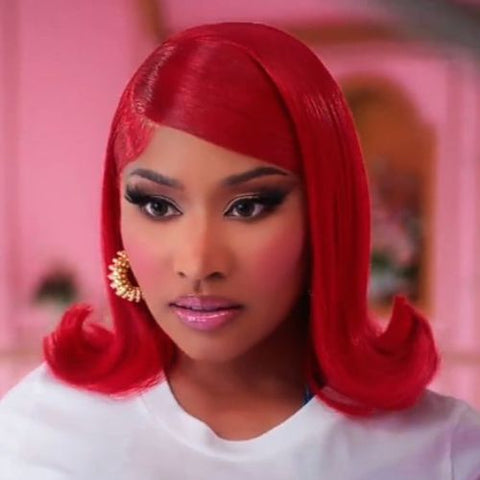 This red hair barbie style on Nicki Minaj add a bit of refinement. This color give people a felling of bright lively and positive. If you want to make changes, start with this hair! You will definitely love it!
3.Long Black Silky Straight Hair.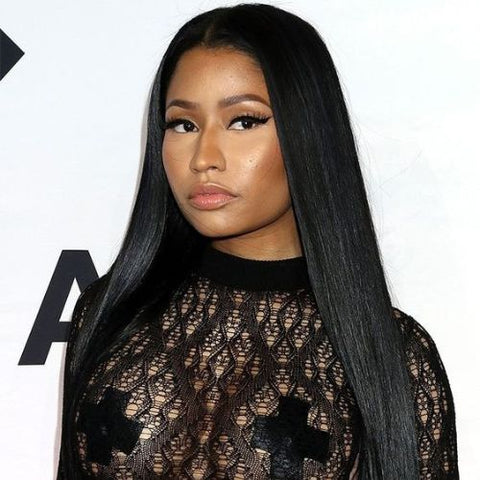 Black Color is an eternal classic. We often see her rock the color hair, but when she get back to black color, she is still gorgeous as ever, she carries this hairstyle with all the elegance. To achieve this hairstyle, you can opt for sew-in weave, or human hair wigs. Just apply any of the above extensions and get those long silky hair! If your hair is wavy or curly, you can flat iron the hair to get the same elegant style.
4. Ombre Blonde Blunt Cut Bob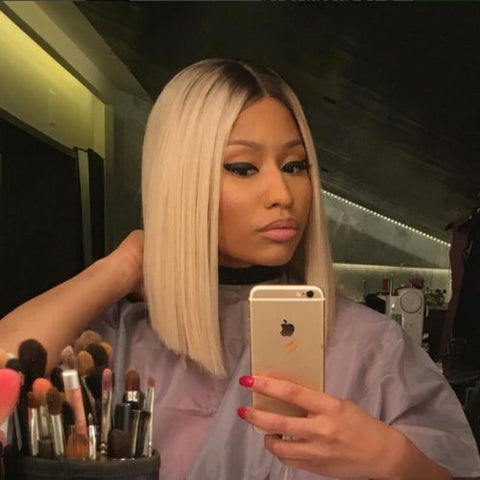 Nicki Minaj's blonde bob is also a iconic style. The blunt cut hair style will create the illusion of thicker, fuller hair. It also lends to a more playful look, ultimately feeling more youthful. Girls with heart, oval, and square face shapes all fit this style well.
5.Long Wavy hair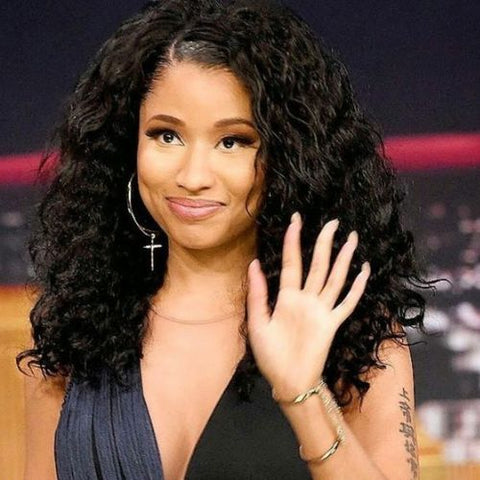 This wavy hair style doesn't need to much work to maintain. After applying a wig , you can just put on some volumizer, mousse even some water, then you will get a charming style.
6.Pink Swoop Bang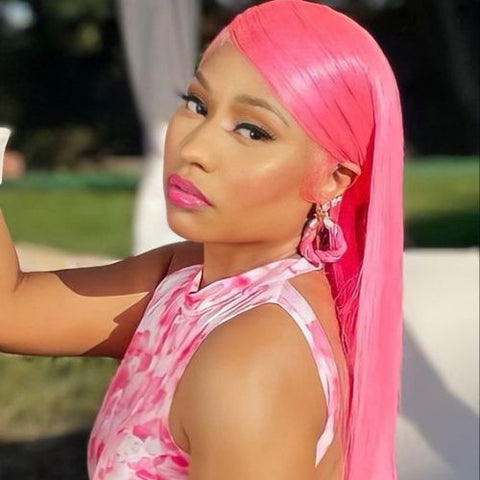 Nicki Minaj's pink hair is a legend. The pink swoop bang of Nicki Minaj is also a trendy style on social media. With the full pink color, Nicki Minaj looks youthful and vitality. To get this same style, you can color the blonde hair to pink, then side part the hair, and put the front hair behind the ear.
7.The Mermaid Hair Style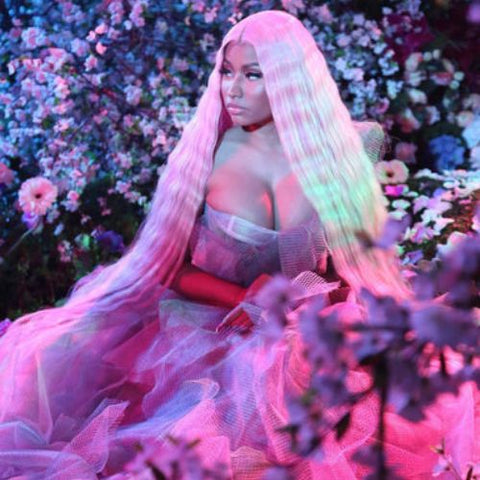 Mermaid hair is a perfect beachy look, Softly waved, parted in the middle, and extra long. If you want to achieve this style, you'd better get a long high density wig to get a full look,Then, when it comes to styling, you can either start curling your hair with a waver, or you can opt for a more natural, gently tousled style with the aid of a texturing sea-salt spray.
8.Bun Style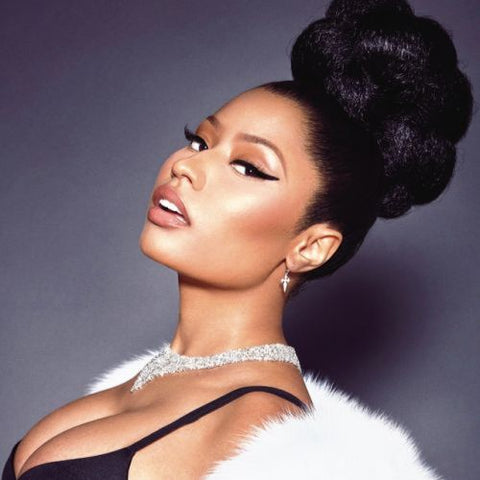 The High bun style looks like a queen with crown. This hairstyle is easy to achieve and gives your face the perfect cut. You can do this style with your wig or hair bundles by a few steps, whatever the hair texture is.
9.Half Blonde Half Pink Hair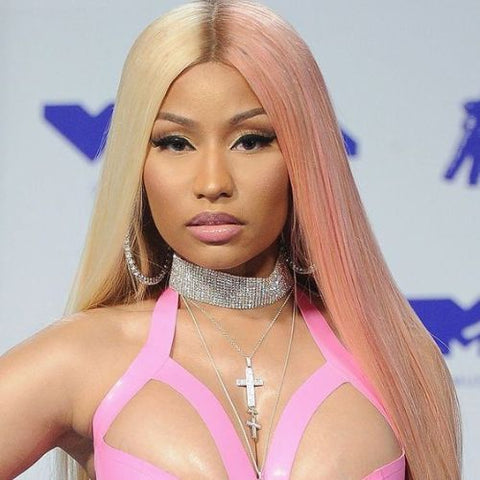 Carrying two extremely different colors on a head and making it look all the way more stylish is something that only Nicki Minaj can do. If you are worried about hair damage, it is something that is negligible. To achieve this hairstyle, you can either grab blond hair and color them half pink or just grab a blonde wig and color it the same way.
10.Blonde Body Wave Hair.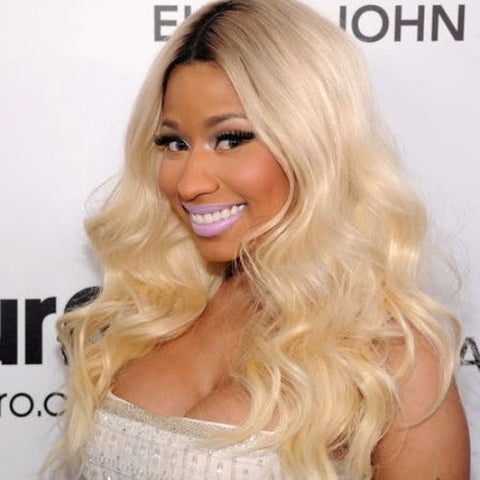 Nicki Minaj Attended Oscar after Party whith this blonde body wave style. It is also a popular style among many celebrities. The loose curls are usually shiny and natural-looking in appearance.
3.Where to get Nicki Minaj Same Styles
Klaiyi hair is a top brand human hair supplier, who aims to offer premium quality wigs and hair bundles. You can get Nicki minaj same styles in klaiyi, Both nature black hair and color hair. Besides the good quality of hair, the service of klaiyi is also an important reason why many people choose it. Klaiyi offers 30 days return policy and overnight shipping service. You can feel free to get what you want with no worries.
4.Conclusion
Nicki Minaj's style has always been a fashion trend and become the goal of many women. Most of the styles we listed today can be your daily style, like long back hair, black wavy hair, ponytail, bun style... If you want try something new Nicki Minaj's color hair style may be a good choice. Which is your favorite style of Nicki Minaj? Let me know in the comment box!
Leave a comment