Join The Forum To Get inspired Ideas
How Do You Hide Long Hair Under A Wig?
Wigs human hair are very popular these days among women of various ethnicities, including black women and Caucasians. Wig's popularity is contributed by the fact that hair wigs enhance women's appearance, help conceal hair loss, and the convenience of wigs. In addition, there are various hairstyles for wigs. So, if you haven't started wearing wigs, this is the perfect time to do so.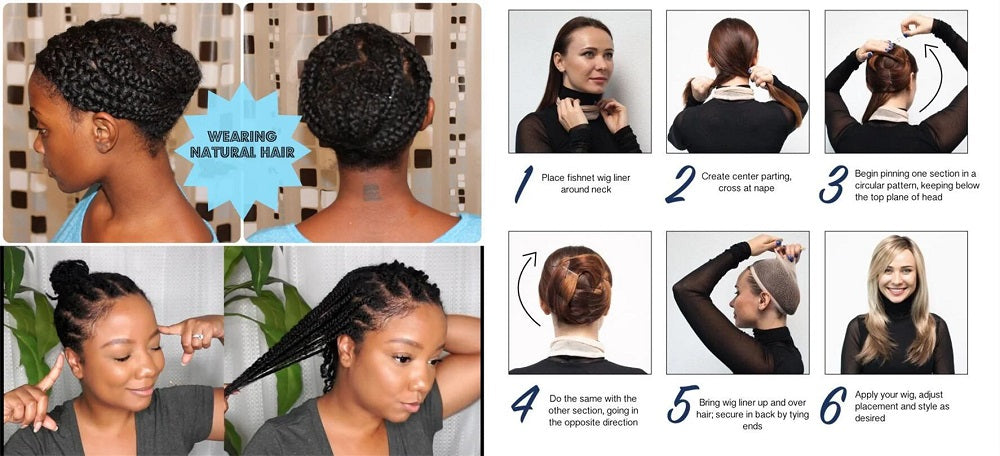 Whenever you wear a human wig, you want to ensure that it gives you a natural look as much as possible. But this can sometimes be quite difficult to achieve, especially if you have long natural hair. If you have long hair, tucking it inside a wig can be hectic, especially if you are new to wigs. Fortunately, we are here to help you. In this article, we take a look at how you can hide long hair under a wig to make your wig look as natural as possible and enhance your look; after all, that's the essence of wearing a wig.
The best way to hide your long hair under a wig
Method 1: Make a bun
Making a bun is one of the most effective ways to hide your long hair under wig hairstyles. That's possible because most wigs have some extra room around the nape of the neck to accommodate a bun. Here are steps to make a bun:
1.Brush your hair to get rid of tangles
First, you need to brush your natural hair using a wide-tooth comb to eliminate any flyaways or tangles.
2.Make a low ponytail
Once you have brushed your hair, you can then tie it into a low hair ponytail at the nape of your neck.
3.Make a low bun
The next step is to twist the ponytail from where you had it secured at the nape of your neck and twist it until the hair lifts. Then you can lift the hair up and around into the base. You need to make the bun as tight and small as possible in the process. This way, it will not be visible when you put your wig on or look bumpy.
4.Secure your low bun
The final step is to secure the low bun. You can do that by taking a bobby pin, going inside, and pinning it into the base of your ponytail.
Method 2: Cornrows
Cornrows are also another popular way to conceal long hair under a wig, especially for ladies with textured or thick hair. Cornrows are more common than braids when it comes to helping hide long hair under a wig. Besides, they have a flat surface, making your natural hair less bumpy under a wig. Additionally, cornrows fit all hair lengths, including short, medium, and longer hair.
Method 3: Plaits
If you are not comfortable with buns or cornrows, then you can opt for plaits, as they are also a perfect way to hide your long hair under a wig. Even though this style is not as flat as cornrows or buns, it protects your hair and allows you to easily access your scalp whenever you want to clean or moisturize it. Here are steps to help you make plaits for longer hair:
1.Make braids
The first step is to make braids. You can do that by tying your hair into a ponytail at the crown of your head and dividing the hair equally into four sections or more as you please. Then you can plait each section.
2.Secure the braid
Take one plait, wrap it around your head about one inch away from your hairline, then pin every few inches to make the braid more secure.
3.Repeat the above step
Repeat the above step with all other braids as you wrap each braid behind the rows of the previous plait.
4.Hold all the braids in place
Lastly, use the last plait to wrap it into a spiral that ends at the base of the first ponytail. It is worth mentioning that you shouldn't overlap these braids because they might easily create lumps when you put on your wig. Then you can style the wig, especially if you know how to style a wig properly.
Tips to help you hide your long hair under a wig
Now that you know methods you can use to hide your long hair under a wig let's explore some tips that can help you do so.
1.Always wear a wig cap.
earing a wig cap offers your hair great protection. Moreover, it helps keep your natural hair in one place, hiding it naturally. Look for a wig cap color that complements your skin color to give you that more natural look you are yearning for.
2.Keep your natural hair moisturized.
Before you wear your wig, it is crucial to moisturize your natural hair. Wash and condition it properly. You can also moisturize your hair in between the wears.
3.Clean and condition your hair regularly.
Many people think that hair is always clean since it is under the wig. But this is not the case. Even if your hair is under a wig, it can still get dirty. That's why you need to wash it regularly to remove oil and dirt buildup.
4.Avoid putting on a wig on wet hair.
Never wear your fabulous wig on wet hair. This can promote the growth of mold and bacteria on your wig. Moreover, it can cause your hair and wig to produce a bad smell. That's why you must avoid it at all cost. Let your natural hair dry completely before you put on your wig. This also applies to your wig. You must ensure that it is dry too.
Final thoughts
There you have it- how to hide your long hair under a wig. Now you don't have a reason to wear a wig that looks bumpy. These methods and tips mentioned above will help you ensure that you hide your long hair under your wig and achieve that natural look as much as possible. What's more, these methods are much easier to do; you can do them in the comfort of your couch.
Leave a comment