Join The Forum To Get inspired Ideas
How To Style Kinky Straight Wig?
Finding a wig human hair that would mix naturally with your natural hair may be challenging if you are one of the girls with curly or kinky hair. Natural blending is essential to achieving a natural-looking wig style since, as we all know, a poor blending unit will announce to people that it's actually artificial hair.
Preparing your natural hair and selecting a wig with the same or a similar hair texture and color as your natural hair are the keys to achieving a natural blending. Girls with naturally kinky hair will love the kinky straight U-part wig since it has a naturally kinky straight texture. This wig makes an excellent protective style.
The clips and combs inside the wig can assist hold the wig firmly on your head, and it is extremely simple to install because you don't have to use glue or gels. Therefore, this is the best hairpiece if you want to preserve your edges and give your natural hair a day's rest.
In this article, we discuss more about kinky straight hair, from why you should buy it and how to style it. Let's get started!
What is a kinky straight wig?
Kinky straight hair is also known as Yaki hair. As a form of natural hair texture that primarily originates from Indian, Malaysian, and Brazilian people, kinky straight human hair is usually sourced from healthy donors and is quite easy to manage. The bulk of hair extensions, including clip-ins, weaves, human hair wigs, and other kinds, are created from kinky straight hair since they blend in so well with your own.
Natural kinky straight hair has a coarse, tightly zigzagged texture that gives it a fluffy appearance. The best kinky straight hair won't lose its shine or smoothness when washed and styled, either. Brazilian kinky straight virgin hair is a great option for people looking for a fashionable yet modern appearance. But, why would you spend money on kinky straight hair?
Reasons to purchase a kinky straight wig:
1. It offers versatility
he fact that kinky straight hair is so versatile and gives you more options is one of its best features. You can choose simple or sophisticated styles for your daily attire. Of course, you are also allowed to change your hair color or style, whatever you like. What's more, you can choose to make your kinky straight wig curly if you are into curly wigs.
2. It offers a more natural look.
Kinky straight human hair wig resembles the hair of black ladies. This indicates that it can readily blend in with the hair of black women. Additionally, the fluffy shape of blonde kinky straight hair can offer users a more natural appearance.
3. It is soft and light.
When you wear kinky straight hair, you won't feel as though it is heavy because it is known to be soft and feather-light. This makes it quite comfortable.
Now that you have explored what a kinky straight wig is and the reasons to purchase one, let's take a look at various ways to style it.
How to style a kinky straight wig?
Here are ways to rock your kinky straight wig:
1. High ponytail
A high ponytail is a classic hairstyle that will always be there, and that's for a reason. It not only looks beautiful and gorgeous, but it's easy to make too. The best thing is that you can achieve this style with your straight, kinky wig.
It's rather easy to create a high ponytail hairstyle with your kinky straight hair. You begin by putting your own hair into a ponytail, and then you insert the clip. Following that, you wrap the magic paste around and adhere to it. Next, you cover the seam with the ponytail's hair strap and secure it with a clop. Add additional setting spray to complete the design for a sleek appearance.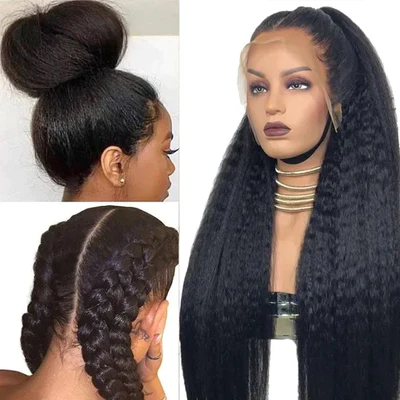 2. Low Ponytail
You can also style your kinky straight human hair wig into a low ponytail. Start by braiding your hair or make cornrows. Make sure they are as flat as possible. This will help you achieve that natural look you desire. Once you have done that, you can install your wig and secure it. You can then make a low bun out of your wig. This hairstyle is quite gorgeous and will give you that chic look you desire.
3. You can make it curly
Some ladies are generally into curly wigs. Curly hair is undoubtedly beautiful and luxurious, and they offer an elegant look. The best thing is that you can also turn your straight wig into a curly kinky wig. All you have to do is to use the right products and tools to help you achieve that.
To make your kinky straight wig curly, you will need a curling iron and rollers. However, make sure that you use these tools on low or medium heat because too much heat can damage your kinky straight wig.
Where to buy the best kinky straight hair?
If you are in the market looking for a kinky straight wig, you need to ensure that you choose the right one. There are many fake wigs in the market marketed as virgin hair wigs. If you end up buying such a wig, you will only end up wasting your hard-earned cash. That's why you need to do your due diligence before you go ahead and purchase your wig.
There are plenty of online shops that sell genuine hairpieces. So you can search for them online. You can first read online reviews about the hair brand to get a better idea of what people are saying about that brand, as well as the quality of its hair products. You can also find out how many years they have been in business because hair brands that have been in the business for a longer period tend to produce high-quality wigs. Once you find a hair brand you are comfortable with, you can go ahead and purchase your precious kinky straight human hair wig and rock it.
Leave a comment