Join The Forum To Get inspired Ideas
How to put on a lace front wig?
Lace front wigs tend to be lighter and more comfortable than many other wig caps. Especially during the hot summer months, or when wearing a wig for a long time. If your scalp becomes warm and sweaty and uncomfortable, the advantage of a front lace wig becomes even more prominent. When you have purchased a certain lace frontal wig, how do you install it?
Prepare your hair for Wig Installation
1. The tools required
Human lace front wigs, wig cap, adjustable elastic band, scalp protection fluid, scissor, wig glue, adhesive tapes, hair clamps, low power hair dryer, ethyl alcohol, cotton swab, mirror, comb, little brush.
2. Keep your hair flat and smooth
The flatter your hair is against your head, the better the wig will look.
If you have no hair or a small amount you will need to use a wig liner to keep your wig secure on your head.
If you have long hair, create a flat curl with a bobby pin. Distribute them evenly over your head, avoiding bumps.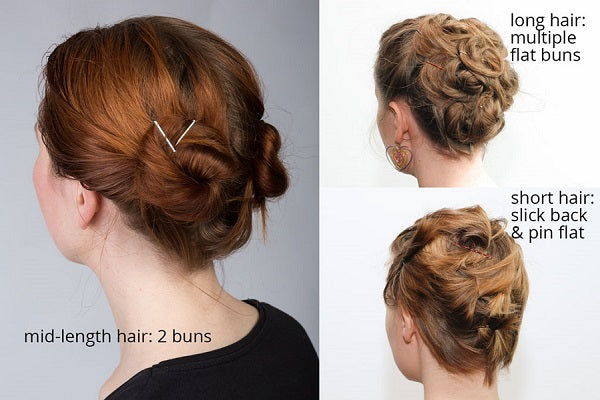 Avoid large lumps and try not to add thickness to the side or front of the head. No matter what type of hair you have, the goal is always to have excess hair laid flat on the back of your head. Because this is where the wig is stretchy and can absorb extra volume.
Put on your lace front wig
1. Put on a wig cap or stocking cap
A wig cap serves two purposes. On the one hand, it protects the hair and scalp. On the other hand, this will keep your lace front wig in place. But if you have no hair on your head, then you needn't wear a wig cap.
Adjust the cap so that it barely covers your hairline. Make sure all of your hairs are tucked into this cap, even the hairs on the nape of your neck. Wig installers recommend choosing a wig cap that matches your skin tone, or adding makeup or lace tones to make the wig look like your scalp underneath.
2. Clean your skin
After putting on the wig cap, make sure the area where the wig is attached is clean.
You can wash your hairline (skin) with a mild cleanser and dry with a towel. Use an alcohol-coated cotton ball to rub along the hairline. This removes any residue from your makeup or skin care products that might prevent the adhesive from sticking properly.
3. Put on the wig
First make sure the wig is the right size. Place the wig on your head and line it up with your natural hairline. Wigs usually have tightening straps inside that you can adjust to fit you.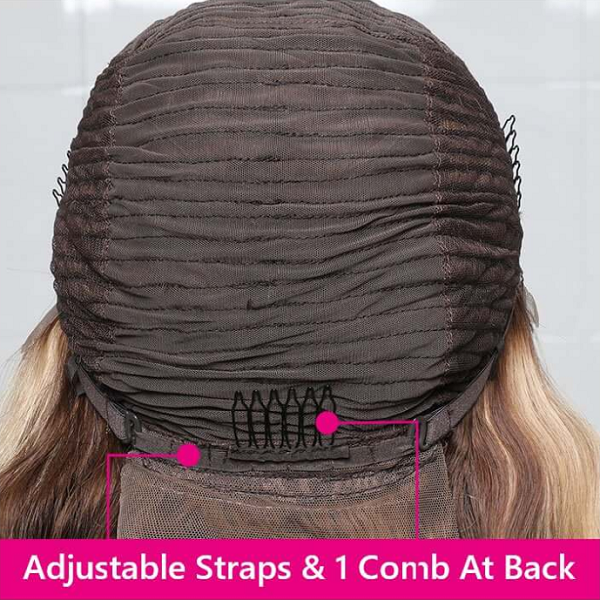 If it is too loose around your head, you will need to tighten the elastic band. If it is too snug on the scalp, just loosen up the elastic band a bit.
4. Adding the glue
Apply glue to the hairline along the edge of the wig cap. Avoid applying glue to your hair. Blow dry the glue in a cool environment.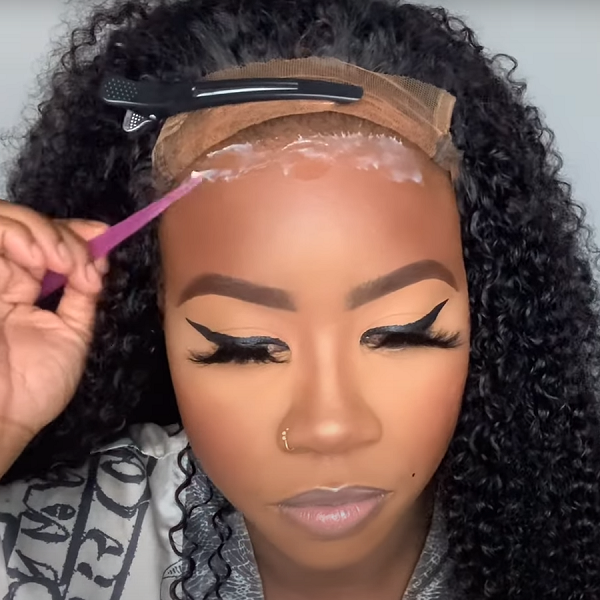 Pull the lace forward to the top of the glue, making sure it is in the desired position, before pressing the lace into the glue. Place a small amount of rubbing alcohol on a towel and gently pat the edge of your hairline to remove excess glue from your forehead, but don't wipe the lace.
5. Cutting the lace
Slide the comb into the hair of the wig and press the adhesive and unit together with the back of the comb. Make sure your wig is properly attached to your head.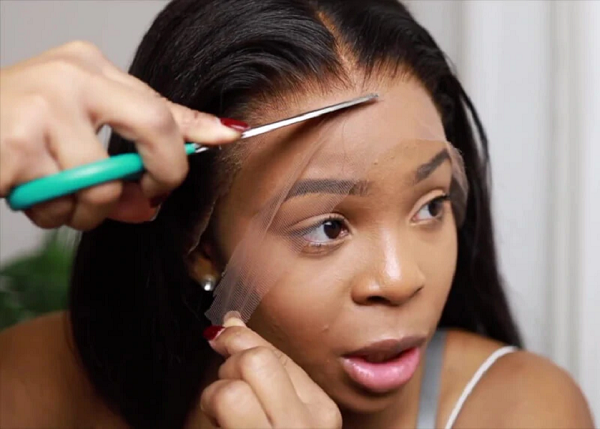 The wig needs to be trimmed when you first install it. If you buy a wig with little extra lace on the front, you don't need to trim it. Use scissors to trim the lace along your natural hairline. You should leave about 1/8 inch (3 mm) of lace.
6. Cutting baby hair
Cutting baby Hair is a very beautiful, natural installation that hides the lines of lace. If your wig has not been pre-cut baby hair, you can further design your wig by cutting them yourself.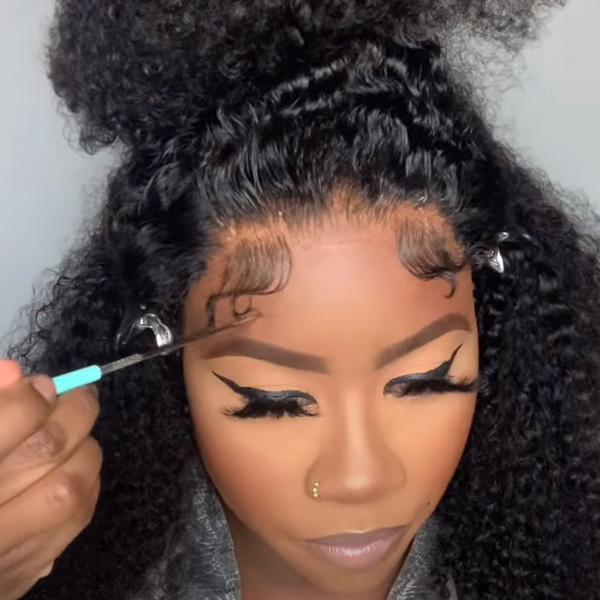 Pull out some hair and cut it into small pieces to form baby hair. Use hair mousse to hold baby's hair in place. Then tie a scarf around the edge and let it sit for a few minutes.
7. Style the wig
If you buy a human wig, you can design your own style. No matter how you plan to design it, the general rule is that you should press out the hairline and separate it with a hot comb. This makes the wig look more natural and realistic. If you buy Synthetic wigs, avoid thermal styling tools. It would cause irreparable damage to the synthetic wig.
Tips:
1. Don't wear wigs for long periods of time. For wigs, prolonged perspiration can shorten their lifespan.  You also need to take regular care of your hair, as wearing wigs for long periods of time can cause drying, breakage and hair loss.
2. Considering the inconvenient installation of lace wigs. If you want to sleep with your wig still on, wrap it in a silk hat. This eliminates friction between the wig and the pillow, and reduces friction between the wig and your own hair. While it might be convenient to sleep in your wig, it's not the best for your natural hair.
3. If you exercise a lot or live in a humid environment, make a point to remove your wig every night. V Part wig human hair and headband wigs for black women are great choices if you want to save time and effort wearing and removing a wig each day.
Leave a comment