Join The Forum To Get inspired Ideas
What Is The Difference Between A Lace Wig And A Regular Wig? 
There are plenty of wigs to choose from in the hair market today. If you want to purchase a wig, you can either opt for a human hair lace wig or a regular wig. Both of these wigs have their features, which is why you need to understand each of them before you make your decision. 
In this article, we discuss these two types of wigs: lace wigs and regular wigs. So without wasting time, let's get started. 
What is a lace wig?
A lace wig is a high-quality handmade wig. It is a special type of wig in which the hair is tied by hand to a sheer lace base that goes over the scalp. A lace wig can be made with either human hair or synthetic hair, or a blend of both. Lace wigs can help enhance women's appearance. The cap can be parted anywhere with the look of a real scalp or blended into the natural hair to make them more visible. 
The main reasons why black ladies love lace wigs include:
They conceal hair loss
They protect the natural hair
They give wearers a more natural look
They are highly durable
They offer strong breathability
They can be easily customized
They are cost-effective
When it comes to lace wigs, there are different types you can choose from. 
Types of lace wigs
Here are some of the types of a lace wig
Lace front wigs
The human hair lace front wig is one of the most common types of lace wigs. They help women achieve a more natural look. The lace covers the hairline from ear to ear. These types of wigs are very flexible, making it easy for you to try various hairstyles, such as side parts, ponytails, or center parts. If you are experiencing hair thinning, the lace front wig is the perfect wig for you.
Transparent lace wig
This is also another type of wig that's quite popular. The lace is ranging in various transparent colors. Colors typically range from dark and light brown to medium brown and transparent. The lace is normally French or Swiss. But Swiss lace is often used because of its softness and ductile nature. It is worth mentioning that the transparent lace wig is the original lace wig; the only difference is that the lace is transparent and invisible.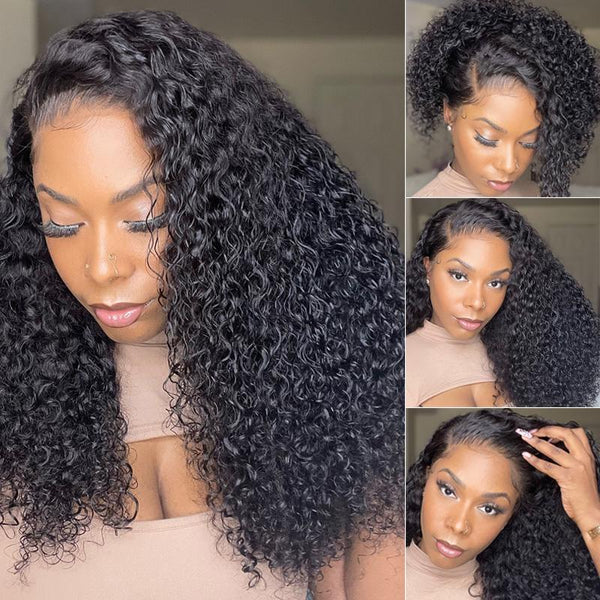 HD lace wig
HD stands for high definition. The lace material is also known as Swiss lace. When it is applied to the scalp, it becomes undetectable. An HD lace wig offers the thinnest material, which is soft smooth, and lighter than normal lace.
Lace part wig
The lace part wig is produced by a sheer piece of lace that is hand-tied and a machine-made wig cap. It bonds the hand-tied lace closure and the machine-made wig cap by sewing, then ripping the virgin hair into the holes of the lace using hands. The virgin hair in the machine-made wig cap is sewed onto the cap. 
What is a regular wig?
A regular wig is a type of wig that looks more like a full head of faux hair. With a regular wig, you have a cap full of synthetic hair. You just put it on your head, brush it a little gently, and you are ready to go. If you buy the right size of a regular wig, you can put it on just as you have bought it without adjusting it in any way. 
Remember that you cannot style a regular wig any way you want. They are usually designed to take a specific style and there is nothing much you can do to change that. For instance, if you buy a regular wig that imitates a pixie cut, you will just wear it that way- and there are no changes you can make to the wig. 
What are the differences between lace wigs and regular wigs?
Now that you have a better understanding of these two types of wigs, let's take a look at some of their differences. 
Look and feel
Without a doubt, lace wigs look more natural compared to regular wigs. That's because, as mentioned above, the lace makes it appear as if the wig hair is your strands. This makes it pretty difficult to notice that you are wearing a wig, especially if you buy the right color that's similar or close to your hair color. Regular wigs, on the other hand, do not give wearers a more natural look compared to a lace wig. Somebody can easily notice that you are wearing a wig when you put on a regular wig.
Installation
Putting on a regular wig is pretty simple. You simply braid cornrows on your hair and put on the wig. It is as simple as that. But this isn't the case with lace wigs. That's because they require a bit of preparation before putting them on. First, you may have to bleach the frontal lace if the black hair dots are visible. You will also have to tweeze the hair on the lace part to make it look like a natural hairline. Once you are done with the tweezing, cut out the extra lace. When it comes to putting the lace wig on, there are several ways to do it. You can choose to use an elastic band, glue, or tape. Glue is the most common method of installing a lace wig. However, make sure that you use only glue that is meant for wigs. 
Price
Regular wigs are generally cheaper compared to lace front wigs. They are also readily available. You can buy a regular wig at a local store or online at an affordable price. That's why you find many people on a limited budget going for regular wigs. On the other hand, lace front wigs are much more expensive. That could be because they look more beautiful and give a more natural look.
Leave a comment